Campendium is focused on helping you find and share great places to camp. To learn how to search for a campground on either the Campendium website or app, click the appropriate tab below.
Go to www.campendium.com and create or sign into your account.
Use the search bar at the top of the page or in the center of the homepage and start typing the location where you're interested in camping. You can search for a city, state, province, specific campground, point of interest, or for options near your current location.


Wait for the search bar to display a dropdown list of matching locations, as shown in the screenshot below. If the location you're interested in is not appearing in the list, double-check your spelling!



Notice that results are designated with either a MAP/CITY/PLACE icon or an INFO icon.

If you select a result with the MAP/CITY/PLACE icon you will be taken to the map search where you can explore nearby camping locations.

If you select a result with the INFO icon you will be taken to the Best Camping page for the location, which highlights the camping options that are most highly rated by the Campendium community and features related camping guides. Not all locations have an associated Best Camping page, but they are helpful so keep an eye out!
Open the Campendium app on your phone.
Tap in the search bar.
Use the 'My location' navigator (arrow on the right) to see campgrounds near you OR type in the location you want to see.

If you're typing in a location, select that location (city, state, province, campground, point of interest) from the dropdown list: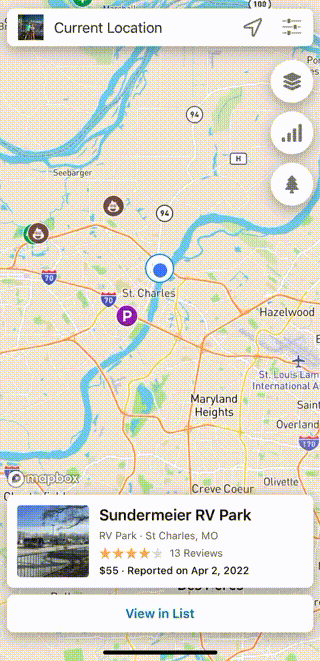 Open the Campendium app on your phone.
Tap in the search bar.
Use the 'Near Me' navigator (first drop down) to see campgrounds near you OR type in the location you want to see.

If you're typing in a location, select the location (city, state, province, campground, point of interest, or for options near your current location) you want to go from the dropdown list: