Browsing Questions and Answers
Take a look at the Q&A section on campground review pages while using the Campendium website or app to see any previously posted questions and answers. You might find that someone already asked the same question you have! Click the link to see answers for any questions you're curious about.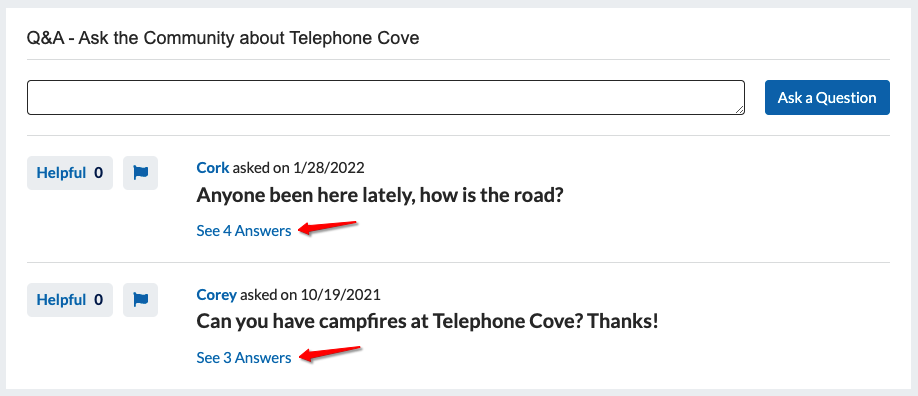 Asking Questions
You can ask fellow travelers and campers in the Campendium community a question about a specific campground, camping area, RV park, or overnighting spot. The 'Q&A - Ask the Community' feature is available on each campground review page on the Campendium website and app.

Your question will be sent by email to Campendium community members who have previously reviewed the location or left a photo on the review page. If someone knows the answer, they'll chime in and you'll get an email to let you know someone answered your question! The question and answer(s) will also be available on the campground review page so that the community has access to the information in the future.
Have a question for the RV Park owner or campground management?
Questions from the Q&A feature do not get forwarded to RV park owners or campground management. If you're looking for information regarding current operating status, rates, availability, reservations, or specific policies we recommend you contact the campground or camping location directly.
Keep in mind that all questions are reviewed before they are posted. To ensure your question gets shared, keep the following guidelines in mind:
Questions must adhere to our community guidelines.
Questions asking about current operating status, rates, availability, or to make reservations will not be posted. These questions should be sent to the campground directly.
Questions should be relevant to the amenities and conditions at the camping location.
Answering Questions
If someone asks a question about a campground you previously left a review for, you'll get an email about the question. If you know the answer, click the Answer Question button to reply!
If you see a question you know the answer to while browsing Campendium, you can also submit an answer through our website or the app.